Yacht Brokers, Crew Agencies and Manufacturers of Yachts
Are you looking for a new yacht?  Have you considered buying from abroad and having her delivered?  Yacht Skipper 4u has partnered with Whites International Yachts to bring you one of the best selections of yachts for sale in the Med.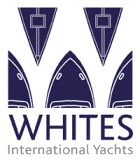 YachtSkipper4u can deliver your new yacht to the UK  from the Med for a special rate of between £2950-£3500 inclusive of crew travel and provisions. For a precise estimate or delivery to another destination, just ask Whites to request a quote from us, or Contact us direct, quoting 'WHITES'.
See a selection below, or visit Whites website for their full range of sail and motor yachts.